ERP is short for Enterprise resource planning. It is a process used by companies to manage, operate and integrate the important parts of their business. Whether its planning, purchasing of inventory, sales & marketing or finance, ERP is the goto solution. 2 of the widely used applications globally are SAP and Oracle. While SAP ERP is used to integrate business applications, on the other hand, Oracle RDBMS is applied in enterprise environments for data-level functionality. In this article we will comprehend the differences between both the solutions.
SAP ERP is an end-to-end enterprise resource planning solution which was developed by SAP SE in Germany. Oracle ERP is a comprehensive application suite which was introduced by Oracle Corporation in 2012 and used for managing enterprise function. The way both the application stacks have been architectured, it's considerably different – SAP utilizes ground-up approach and Oracle is meant to Integrate several systems together.  SAP is scoped to address business process like finance, accounting, HR and logistics. On the other hand, Oracle is used mostly for data warehousing and running online transactions
Deployment of solution also has a pivotal role in its selection, hence its imperative to share associated cost and time utilized by both ERP offerings. SAP looses the race both is terms of implementation time (which is 14.7 Months) and associated deployment cost (Higher than Oracle). Oracle is the clear frontrunner since it only required 12 months for provisioning end to end and price associated is also lower. Nonetheless, SAP still rules the ERP market with 26% market share compared to its opponent which lags behind at 17%.
Oracle has multiple benefits like less complex UI for user interface and easy options to customize the application stack.  Compared to Oracle, SAP has intricate UI and also difficult to customize the same.
All the above discussed differences between SAP and Oracle have been enlisted in the below table –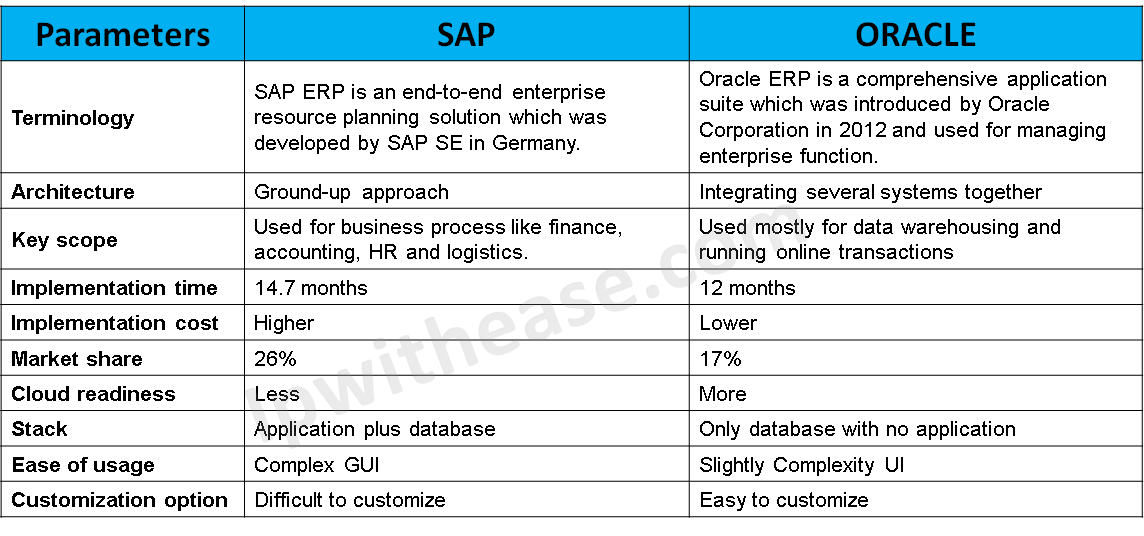 Please follow and like us: